We are obsessed with these Harry Potter inspired Butterbeer Jello Shots, or, ahem, butterscotch jello shots for the non-HP folks out there. They're made with cream soda, butterscotch schnapps, and a few other yummy ingredients, and are a Harry Potter fan delight. Adults only, of course. They're so easy to whip up for your next movie marathon or wizard themed party. Let's get into how to make them!
This post contains affiliate links. See our full disclosure policy, here.
Harry Potter Butterbeer Jello Shots Ingredients
You'll need just a few ingredients-
2 cups of cream soda
4 envelopes of plain gelatin (Knox brand is best)
1 cup vodka (We used Smirnoff Kissed Caramel)
1 cup butterscotch schnapps
Whipped cream and butterscotch syrup for topping
Optional, gold sugar sprinkles for topping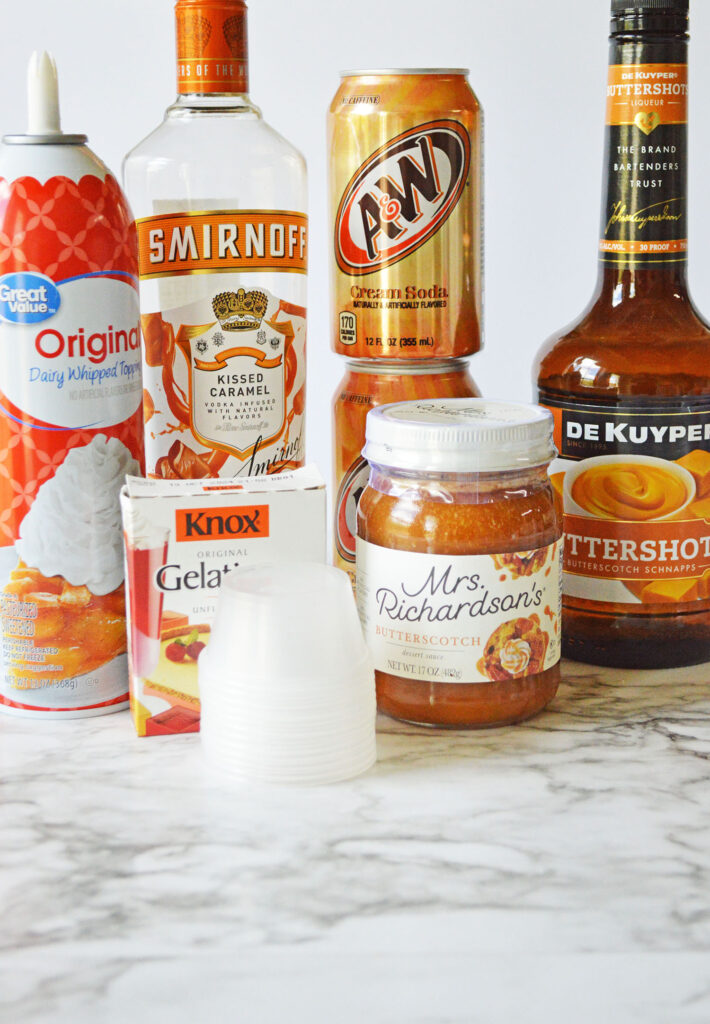 We used Smirnoff Kissed Caramel Vodka for this recipe, but you could also use Whipped Cream Vodka. Even 1 cup vanilla vodka or regular vodka is great if that's what you have on hand. However, Pinnacle Whipped is one of my favorite vodkas for the best sweet jello shots and cocktails, and Kissed Caramel comes in at a close second. These are a bit of a stronger jello shot with the vodka and schnapps! Then, for our caramel sauce, we know the usual brands, but we discovered Mrs. Richardson's butterscotch at our local Publix and it is seriously so delicious, I don't know that we will ever buy anything else. It is perfect for sundaes and anything else you could dream up for some caramel sauce.
How to make Butterbeer Jello Shots
Here's how to make them-
1. To a medium saucepan, pour soda in and then sprinkle gelatin over the soda. Whisk to combine.
2. Let sit for 2-3 minutes to bloom.
3. Heat mixture over medium-low heat until steamy.
4. Stir in the cup of vodka and cup of butterscotch schnapps, and stir.
5. Pour evenly into 2 oz. jello shot cups.
6. Allow to chill in the refrigerator for 4 hours, or over night.
7. Top with whipped cream and pour butterscotch sauce over top. Enjoy!
These creamy butterbeer jello shots are so yummy! If you love butterscotch, these are going to be right up your alley. This is such a delicious adult jello shot recipe, perfect for Potter fans.
Butterbeer Jello Shot FAQs
Where's the best place to get plastic shot glasses?
For disposable shot cups, we love 2 oz. plastic cups for most of our jello shots. You can get them from Amazon, but we've also found them at our local Walmart with the other plastic cups and plastic utensils!
Is there a less messy way to top these?
Absolutely! Trade the butterscotch sauce for some large crystal sugar sprinkles, sparkly star sprinkles, or edible glitter. A little sparkle would make these so much fun! You can use anything you like that makes these magical, without all the mess. You don't even really have to use whipped cream if you don't want to.
How can I make these ahead of time?
If you want to make these ahead, you can just leave them in the refrigerator during their chill time until you are ready to serve. Most of the 2 oz. plastic cups come with lids, also which is super helpful. Just wait until you are ready to serve to garnish!
You might also like these other butterscotch schnapps recipes-
Christmas Cookie Jello Shots (coming soon!)
For more fun shots, try these-
Apple Cider Jello Shots with Fireball
Strawberry Shortcake Jello Shots