It doesn't get any simpler than this Vodka Cranberry recipe. It is easy to make, and requires just a few ingredients. We consider this a classic, go to cocktail. It is amazing for the holiday season, Thanksgiving or Christmas, but it's also a great, simple cocktail to enjoy any time.
This post contains affiliate links. See our full disclosure policy, here.
A Vodka Cranberry is also called a Cape Codder (or Cape Cod). It is believed that the drink originated there in the Summer, and Cape Cod can be known for growing lots of cranberries. Rumor also has it, that Ocean Spray started the Vodka Cranberry in an attempt to sell more of their cranberry juice! They called it a Red Devil, but that name didn't stick. We're here for it, either way!
Why we love this drink-
The Vodka Cranberry drink is one of our favorite classic cocktails. It is also the easiest cocktail to mix up.
The simple flavors of this drink are always a crowd pleaser, perfect for holiday parties or any time of year.
This is such a refreshing cocktail, juices make some of the best mixers.
Vodka Cranberry Ratio
Seeing as this drink is mainly just two ingredients- you really just need to know what ratio of vodka to cranberry juice. It is suggested to use 1 1/2 ounces vodka to 5 ounces of cranberry juice, so 1.5 parts cranberry juice to 5 parts vodka, if you want to make these for a crowd you can multiply and make a big pitcher. However, we've also done it with two ounces of vodka for a little kick! We also like to add just a little spritz of fresh lime juice, about the juice of 1 wedge, for a hint of lime.
For a crowd, in a large pitcher combine 1 bottle of vodka with about 80 ounces of cranberry juice. This would serve about 16 drinks total. For the lime juice, add the juice of 2 whole limes.
As far as ingredients, the only other thing you need is ice and your garnish- we use fresh cranberries when they are in season and of course, a fresh lime slice. Let's talk about how to make this drink.
Vodka Cranberry Directions
The first question is shaken or stirred- and you can really do either. I love shaken cocktails. Nothing beats a light, super chilled drink. But, this drink is so simple, sometimes I just save on the dishes without dirtying my cocktail shaker, and stir it right up inside my cocktail glass.
Step 1: Add Ice cubes and cranberries, if using, to your glass, and pour in vodka.
Step 2: Add cranberry juice, and give the drink a good stir.
Step 3: Add a spritz of lime juice and garnish with a fresh lime wedge or lime wheel.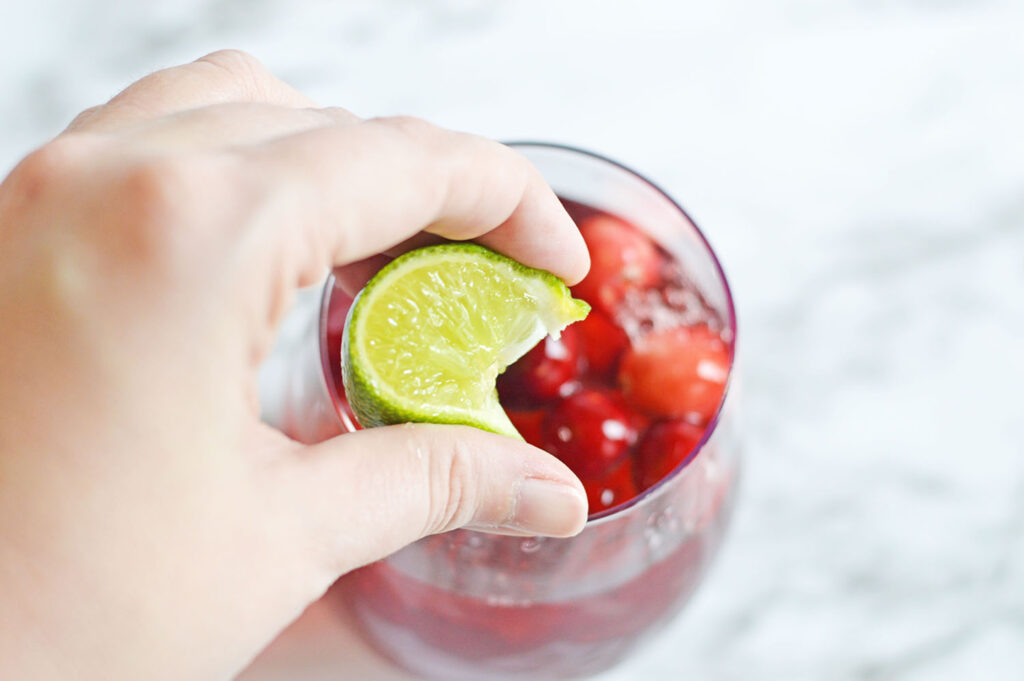 This is such a classic cocktail. It is such a simple combination of vodka and cranberry juice. We love the visual aesthetic of the fresh cranberries, this drink is perfect for holiday parties. For a printable version of this recipe, see the recipe card below.
If you enjoyed learning how to make a vodka cranberry, you might also like these other yummy cranberry cocktails-
Recipe FAQs
What is the best cranberry juice for a vodka cranberry?
You can use any cranberry juice you prefer. We tend to grab cranberry juice cocktail. It offers plenty of sweetness to balance out the vodka and lime. However, if you prefer to use an unsweetened cranberry juice you can add a splash of orange juice or simple syrup for sweetness and to keep the balance with tart cranberry juice. If you are wondering if 100% cranberry juice is better than cranberry juice cocktail, they can be. However, the cocktails and sugar content are typically the same, but 100% juice versions are sweetened with other fruit juices instead of corn syrup, which you may prefer if you are watching your ingredients.
If you have any questions about this vodka cranberry recipe, leave them in the comments below!
Yield: 1 drink
Vodka Cranberry Recipe
A deliciously refreshing Vodka Cranberry drink made with our favorite vodka, cranberry juice, and a hint of lime!
Ingredients
Ice
1-2 oz. vodka
Cranberry Juice
Juice of 1 lime wedge
Fresh cranberries and lime wedges or slices for garnish
Instructions
Fill your glass with ice.
Add 1-2 oz. of vodka (your preference, depending on glass size), and fill the remainder of the glass with cranberry juice.
Add the juice of 1 lime wedge.
Garnish with fresh cranberries and lime wedges or slices.
Enjoy!
Nutrition Information:
Yield:
1
Serving Size:
1
Amount Per Serving:
Calories:

214
Nutrition information isn't always accurate.
You might like these other yummy cranberry cocktails-