This Bacardi Daiquiri Recipe is so simple and delicious. A classic daiquiri, made with Bacardi rum, which is one of our go-to rums for delicious cocktails. It is so simple with the lime flavors, that it is sure to be appreciated at your next girl's night or house party. All you need is a good blender and you are ready to go!
This post contains affiliate links. See our full disclosure policy, here.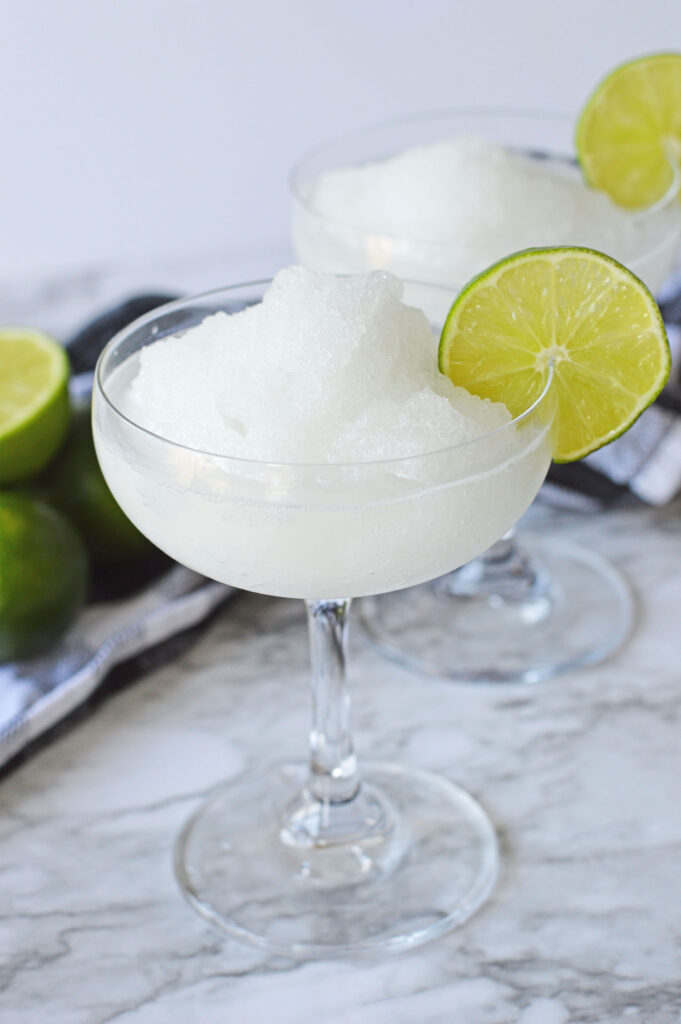 These are so light and refreshing, this blended cocktail is perfect for warm Summer nights! Such a classic cocktail. Here's the ingredients list, and this makes two!
Bacardi Daiquiri Ingredients
4 oz. white rum
4 oz. fresh lime juice
2 oz. simple syrup
2 cups ice
Fresh limes- wedges and wheels for garnish.
Why we love this cocktail-
It is the perfect mix of sour and sweet with the simple syrup and lime juice. A classic drink that is straightforward.
The slushy texture is like a snow cone for adults! Perfect for a hot day!
In just a few easy steps you'll be enjoying this cocktail on your patio or back deck, at least pretending to be somewhere tropical!
When it comes to a good blender- we love Ninja blenders for cocktails! You just can't go wrong!
Bacardi Daiquiri Directions
Step 1: To your blender, add ice, lime juice, simple syrup, and rum.
Step 2: Blend until smooth.
Step 3: Pour evenly into two coup or daiquiri glasses. Garnish with a slice of lime or a lime wedge.
You might also like these other delicious refreshing cocktails-
Or, check out our other Rum cocktail recipes!
Bacardi Daiquiri Recipe FAQs
How to Make Simple Syrup for Cocktails
To make simple syrup, combine 1 cup water and 1 cup sugar in a medium sauce pan. Heat until boiling, and boil 3-4 minutes, until sugar is dissolved.
What if I don't have white rum?
Any light rum will work. If you want to stick to Bacardi, try Bacardi Gold, or from their flavors line, Bacardi Lime or any other flavor that sounds delicious to you! A dark rum will also work! Dark rums are pretty close to light rum, they've just been aged a bit, giving a stronger flavor. Spiced rum I don't really recommend, just because you will completely change the taste of the drink.
Can I make this on the rocks instead of blended?
Yes! Skip the blender by adding all of the ingredients- you can cut the ice cubes down to 1 cup, to a cocktail shaker, and shaking until well combined and chilled. Pour over ice in your favorite cocktail glass!
What type of glass do I serve a daiquiri in?
We prefer to serve daiquiris in a Margarita glass, or fun little Coupe glasses, like we did in these photos. They're also often served in Tulip glasses, like our frozen strawberry banana daiquiri, or even in martini glasses! There are so many great cocktail glasses to choose from, and really you can use whatever you prefer or have on hand!
Why Bacardi?
We love Bacardi in our rum cocktails. It is easy to find just about anywhere locally, it is easy on the budget, and it offers great taste and a lot of flexibility on the flavor. It won't overwhelm your drinks, and is excellent for mixing! Bacardi originated in Santiago de Cuba, and is made in Puerto Rico. It is a great middle of the road Rum choice.
Do you have any questions? Leave them in the comments below for us! Then, check out these other great daiquiris-
For a printable version of this recipe, see the recipe card below!
Yield: 2 daiquiris
Bacardi Daiquiri Recipe
A delicious and refreshing frozen cocktail made with lime juice and Bacardi rum!
Ingredients
4 oz. white rum
4 oz. lime juice
2 oz. simple syrup
2 cups ice
Fresh lime wedges and wheels for garnish.
Instructions
To your blender, add ice, lime juice, simple syrup, and rum.
Blend until smooth.
Pour evenly into two cocktail glasses.
Garnish with fresh lime wedges or wheels.
Enjoy.
Nutrition Information:
Yield:
2
Serving Size:
1 daiquiri
Amount Per Serving:
Calories:

265
Nutrition information isn't always accurate.