We loved our frozen version of this, but sometimes drinks go down a little easier when they aren't so frozen, so we wanted to make this version, a Pineapple Margarita on the rocks. It's so easy to make, you just need 3 ingredients, garnishes not included. You can make this stirred, if your ingredients are chilled, or toss them into a shaker cup for a frosty cold drink. Let's talk about how to make this easy Pineapple Margarita.
If you want the frozen option, see our Frozen Pineapple Margarita.
This post contains affiliate links. See our full disclosure policy, here.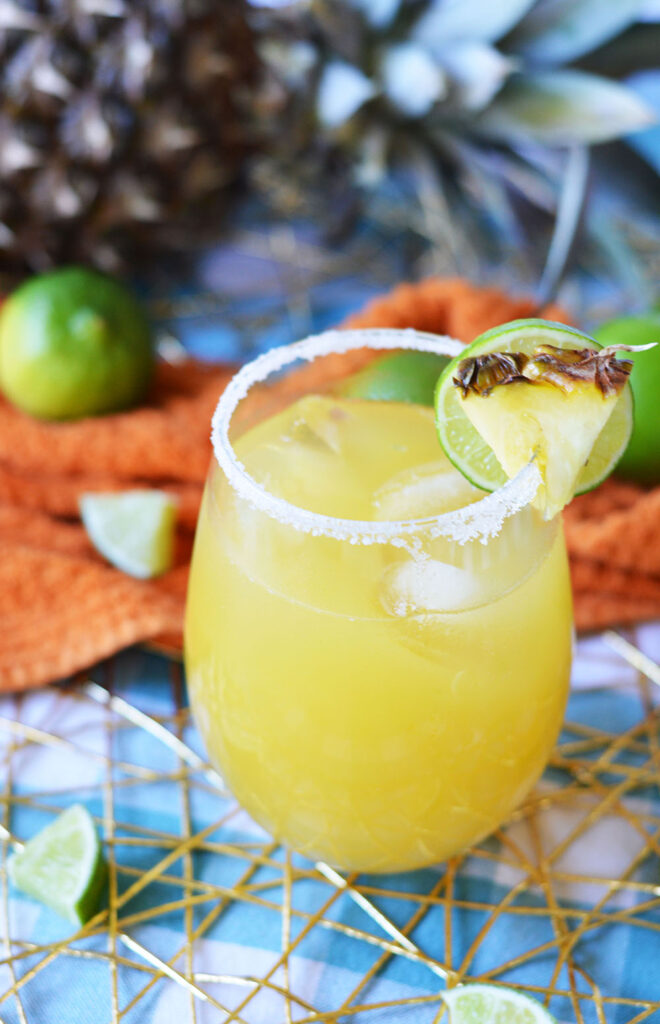 How to Make a Pineapple Margarita
To be honest, I'm a bit obsessed with pineapple cocktails. Whether it's a Pina Colada or a bright Blue Hawaiian drink, there's something so refreshing about cold pineapple juice. It's not overpowering and I just think it makes for a really great cocktail. Here's what you'll need for these Pineapple Margaritas-
Pineapple Margarita Ingredients
2 oz. tequila
1 oz. lime juice
4 oz. pineapple juice
Salt for rimming
Lime slices and pineapple wedges for garnish
What Kind of Tequila for Pineapple Margaritas?
Blanco tequila, or silver tequila, is the best for margaritas. Lately, we have been using Olmeca Altos Tequila, because it is an award winning, but budget friendly tequila option. We are also fans of Espolon tequila, like we used in our Ranch Water cocktail. Any silver tequila you love or have on hand will work just fine.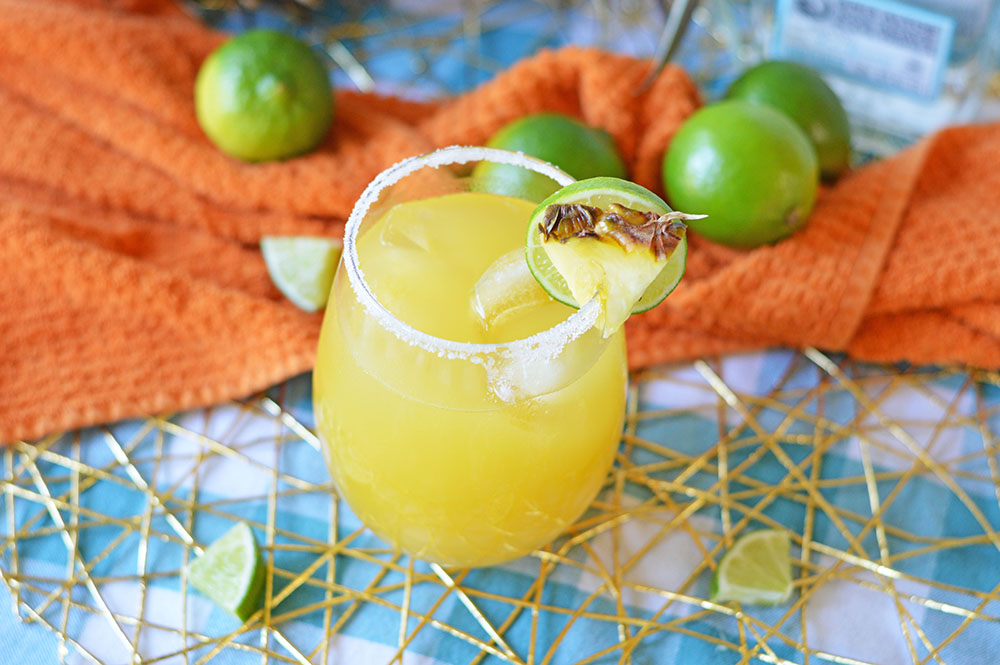 Pineapple Margarita Directions
Rim your glass, by running a lime wedge around the edge, and dipping into the coarse salt. To make things easy, you can add a shallow layer of salt to a saucer for dipping.
Add a handful of ice to your glass. Again, if you don't have chilled ingredients, you may want to add these ingredients to a shaker cup, shake well until frosty, and then add to your glass.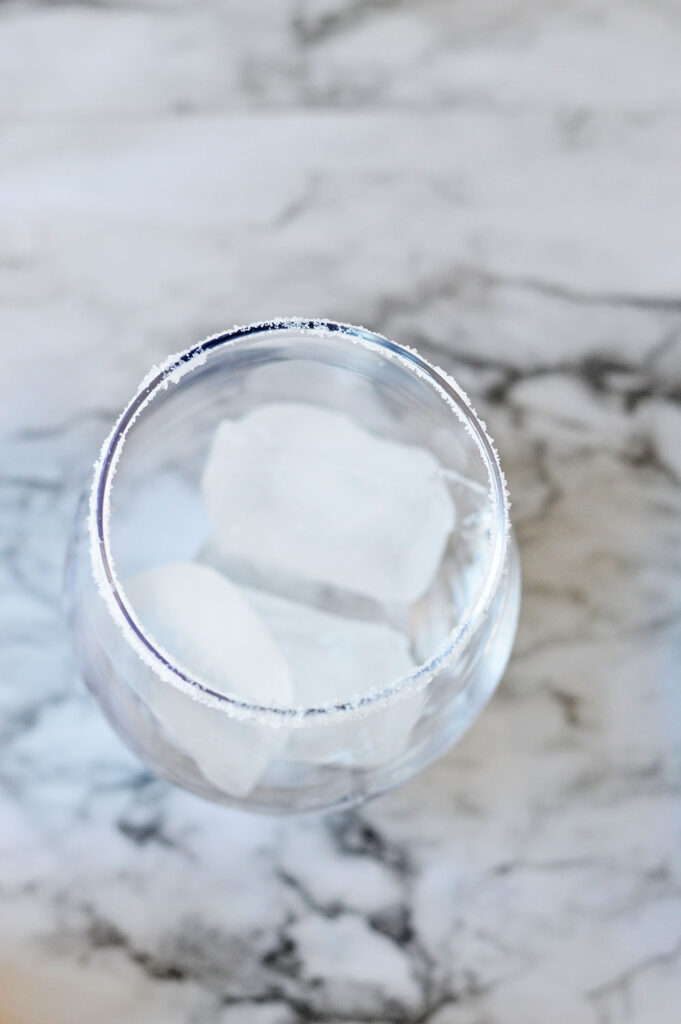 3. Add tequila to your glass.
4. Add lime juice.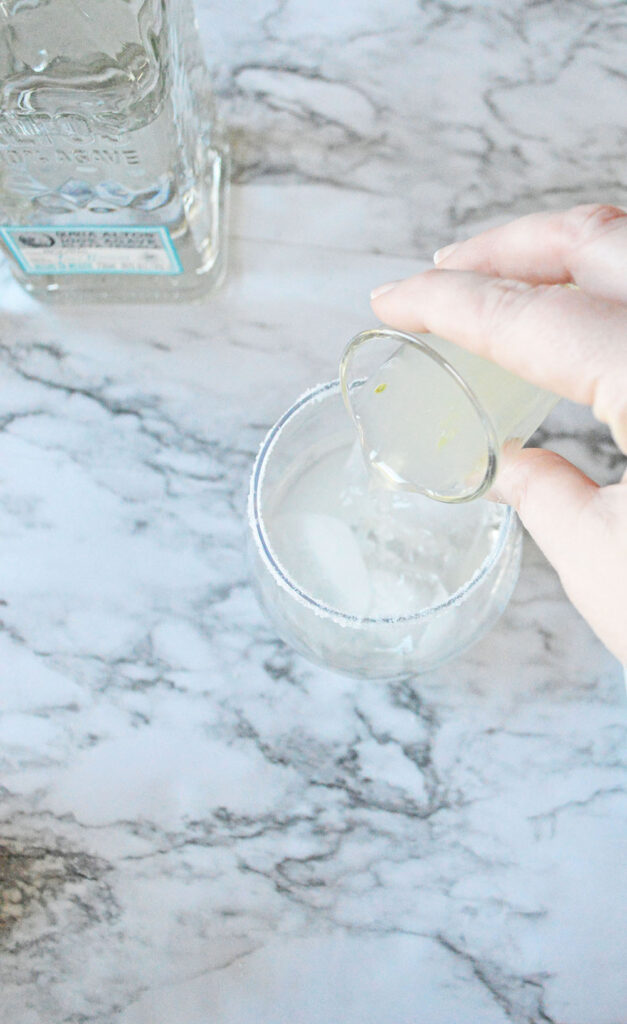 5. Fill the rest of the way with pineapple juice. If you use canned pineapple juice, make sure to give it a good shake before you open it, or stir it well before using, as it tends to settle.
6. Garnish with fresh limes and pineapple. We used fun little lime wheels and a small wedge with the outer edge of the pineapple for a fun presentation.
For a printable version of this recipe, see below. These supplies might come in handy for your margarita making-
Yield: 1
Pineapple Margarita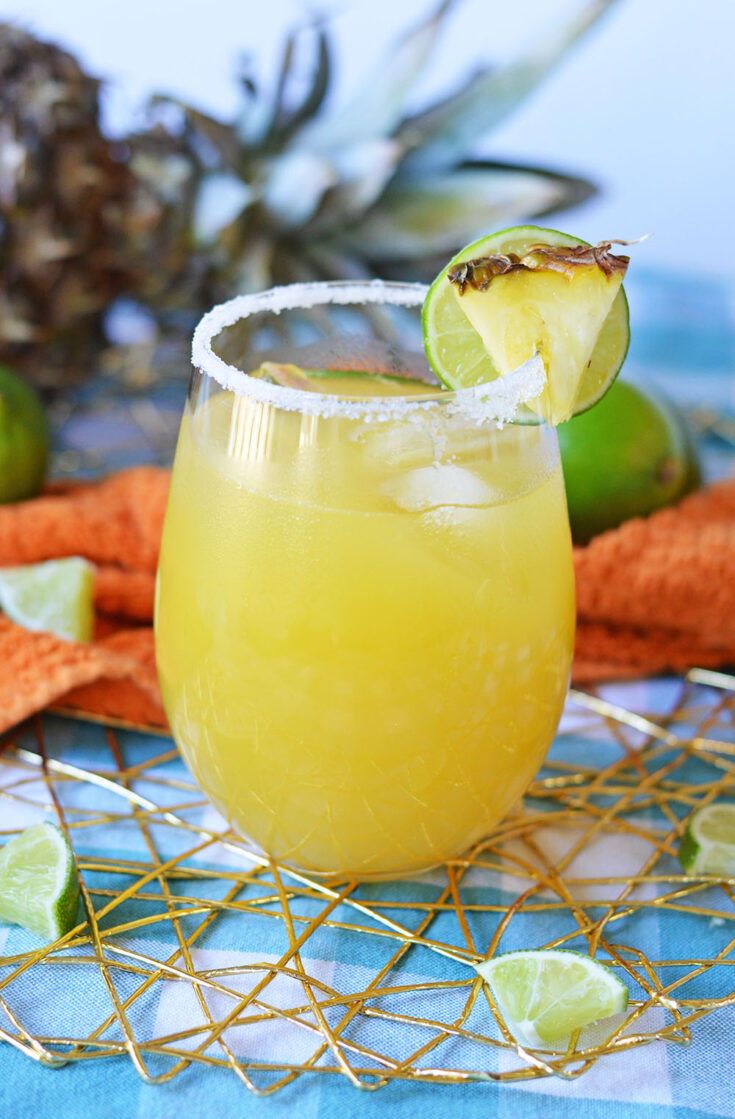 Light and refreshing pineapple margarita on the rocks, so easy to make and delicious!
Ingredients
2 oz. tequila
1 oz. lime juice
4 oz. pineapple juice
Salt for rimming
Lime slices and pineapple wedges for garnish
Instructions
To rim your glass, pour an even layer of salt onto a shallow dish.
Run a wedge of lime around the rim of the glass, then dip into the salt.
Add ice to your glass, followed by tequila, and lime juice.
Then, fill the remainder with pineapple juice.
Garnish with fresh lime and pineapple. Enjoy!
Nutrition Information:
Yield:
1
Serving Size:
1
Amount Per Serving:
Calories:

285
Nutrition information isn't always accurate.
You might also like these other pineapple cocktails-
Also, these other refreshing drinks!