Apple Cider and Rum Punch
One of the best things about Fall is apple cider. I love creating delicious apple cider drinks, with and without alcohol included, but today's recipe is for a yummy Apple Cider and Rum Punch. You can make these individually, or serve up a pitcher for a crowd on Thanksgiving.
Tip: Mix up the ingredients without alcohol, and everyone can enjoy, then add rum to the glasses individually if wanted.
This post contains affiliate links. See our full disclosure policy, here.
I loved garnishing this drink with green and red apple slices- of course, honey crisp apples are the best, but we also love gala apples, too. Cinnamon sticks are also one of my favorite garnishes during the Fall and holiday seasons.
I'll be honest, when I was thinking about the ingredients for this drink, I wasn't sold on mixing apple cider with lemon-lime soda- think Sprite. But, it turned out really great and added a little bit of much needed carbonation to this drink. You could substitute the rum and soda for champagne, and instead of a rum punch, you'd have a mimosa! But for today, let's make some punch!
Apple Cider and Rum Punch
Here's what you'll need-
Apple Cider
Lemon-lime soda
Rum- any rum will do, gives this drink a little extra something
Honey crisp and granny smith apple slices
Cinnamon sticks
Ice
You can get apple cider by the gallon in the produce section this time of year, and then you can always get instant apple cider where the hot chocolate and other warm drink mixes are in the grocery store.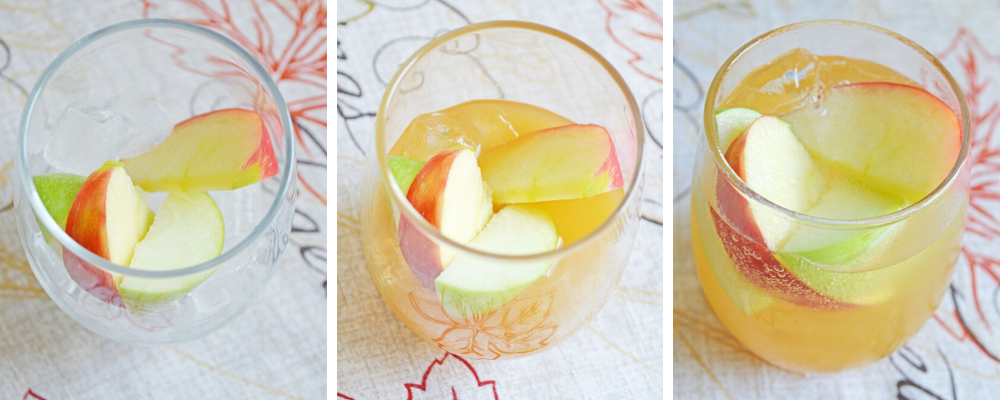 Here's how to mix these up individually-
Gather your ingredients-
2 oz. apple cider
1.5 oz. lemon-lime soda
1.5 oz. rum
1/2 cup ice
3-4 apple slices (granny smith and honey crisp)
1 cinnamon stick for garnish
To skip the rum, add an extra 1/2 oz. of apple cider and 1 oz. soda.
To make-
Add ice and apple slices to a glass
Add apple cider
Add soda and, if desired, rum
Give the drink a gentle stir
Garnish, and serve
If you like this recipe idea, be sure to sign up for my email list to be notified about new recipes on my site!
If you want to make a whole pitcher of apple cider rum punch, here's how-
Serves 8-10
Ingredients-
4 cups apple cider
2 cups lemon lime soda
3 cups rum
4 honeycrisp apples, sliced and cored
4 granny smith apples, sliced and cored
6 cups of ice
Cinnamon sticks for garnish
Directions
In a large pitcher, add ice and then apple slices.
Add in apple cider, followed by soda (here you can add the rum, if desired, or leave it out, or leave it out and add it to drink individually for lots of drink options).
Give the whole thing a stir.
Garnish glasses with extra apple slices and a cinnamon stick.
There you have it, apple cider and rum punch.
What other apple cider cocktails does your family enjoy? Share some creative drink ideas with us in the comments!
Here are some of our favorite cocktail supplies.
You can grab a printable version of this recipe, below!
Yield: 1
Apple Cider and Rum Punch
A crisp and refreshing apple cider and rum punch, a perfect cocktail for Fall.
Ingredients
2.5 oz. apple cider
1.5 oz lemon-lime soda
1.5 oz rum
1/2 cup ice
3-4 apple slices granny smith and honey crisp
cinnamon sticks for garnish
Instructions
Add ice and sliced apples to a glass.
Add apple cider, lemon lime soda, and rum, and stir.
Garnish with a cinnamon stick.
Nutrition Information:
Yield:
1
Serving Size:
1
Amount Per Serving:
Calories:

178
Nutrition information isn't always accurate.
You might also love these other festive drink recipes-