White Russian Pudding Shots
We have been loving pudding shots lately, and I knew I wanted to make White Russian Pudding Shots next! White Russians are a cocktail typically made with vodka, Kahlua, and cream, so we knew this one would be easy to transform into a delicious pudding shot that is sure to be a huge hit. Let's talk about how you can make these yummy pudding shots!
This post contains affiliate links. See our full disclosure policy, here.
Why we love this recipe-
These are always a huge hit. Jello shots are fun but there is just something about pudding shots, they are like a little boozy dessert. So fun!
This White Russian pudding shot recipe is made in just a few simple steps. The instant pudding mix really makes these so easy to make!
White Russian Pudding Shots Ingredients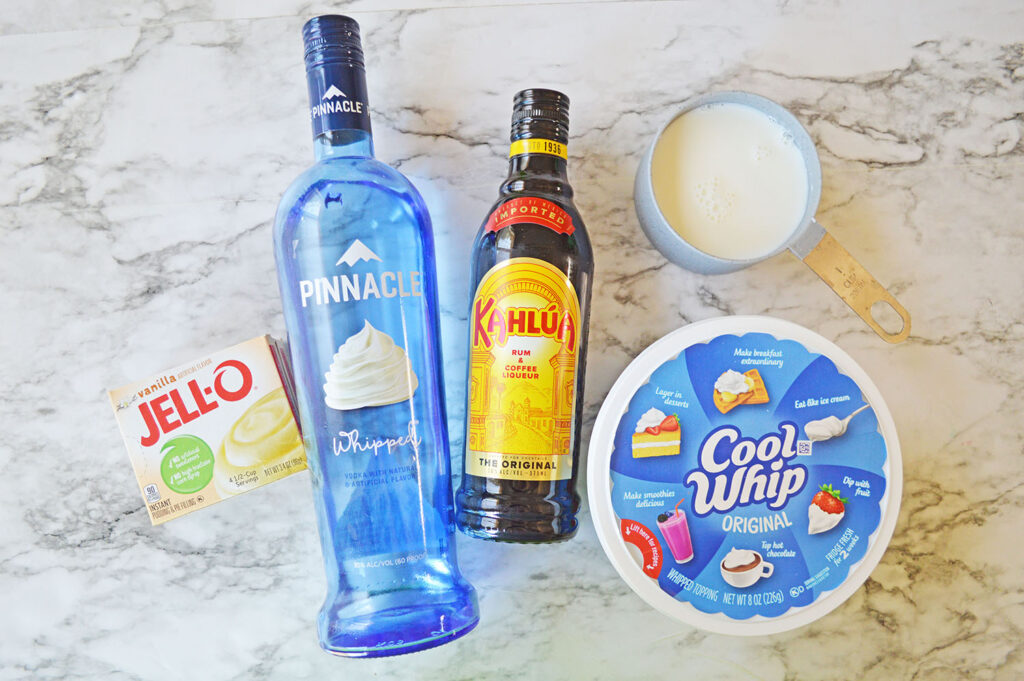 You'll also need individual plastic serving cups, we used 2 oz cups, which you can find at your local grocery store near the plastic utensils and cups, or on Amazon. Make sure to get ones with lids! You can also serve these with little tiny plastic spoons for easy eating.
Optionally, you can also top these with some extra whipped topping, sprinkles, etc.. if you prefer.
Make sure to sign up for our weekly newsletter so you can get new recipes right in your inbox and never miss a thing!
White Russian Pudding Shots Directions
Step 1: Set out your pudding shot cups onto a shallow baking pan.
Step 2: In a medium mixing bowl, whisk together instant vanilla pudding mix, 3/4 cup of milk, half cup of Kahlua, and half cup of vodka, until well combined. Whisk for a couple of minutes, so that the pudding gets ready to set.
Step 3: Add cool whip and whisk again to combine.
Step 4: Spoon pudding mixture evenly into each cup.
Optional: chill for 1 hour. If not serving immediately, these need to stay refrigerated until ready to serve. Serve within 24 hours.
White Russian Pudding Shot FAQs
Can I add Baileys Irish Cream to these pudding shots?
Yes! If you like the Baileys and Kahlua combination you can substitute the 1/2 cup of Kahlua used in this recipe for 1/4 cup of Irish cream liqueur and 1/4 cup Kahlua. That would make these more of a mudslide pudding shot, but you do whatever you like!
Can I freeze pudding shots?
Yes! You can freeze them and they will take on a really nice frozen consistency. They can be served directly from the freezer, too. I wouldn't freeze them for more than a couple of days, but that still gives you a great opportunity to make them ahead of time.
Do I have to use whipped cream vodka?
No way, we just love the flavors that the whipped cream flavored vodka adds. We love pinnacle, so you could try Pinnacle vanilla vodka, regular vodka, or honestly whatever you have on hand. It will be great.
Whip these up the next time you have a dinner party, girl's night, or just because!
This is one of the best pudding shot recipes we've ever made. If you enjoyed this recipe, you might also like these other pudding shots recipes-
Strawberries and Cream Pudding Jello Shots
Rumchata Pumpkin Pudding Shots
Chocolate Pudding Shots (these are made with instant chocolate pudding mix!)
Eggnog Pudding Shots for Christmas!
Mudslide Pudding Shots (coming soon!)
Strawberry Milkshake Pudding Shots
Strawberry Cheesecake Pudding Shots
For a printable version of this recipe, see the recipe card below-
Yield: 18 Pudding Shots
White Russian Pudding Shots
Delicious creamy White Russian Pudding Shots made with vanilla instant pudding, Kahlua, and vodka.
Total Time
1 hour
10 minutes
Ingredients
1 (3 oz) box of instant vanilla pudding
¾ cup milk
½ cup kahlua
½ cup whipped cream vodka
8 oz. cool whip
Instructions
In a large bowl, whisk together pudding mix, milk, kahlua, and vodka, until well combined. '
Add cool whip and whisk again to combine.
Pour evenly into 2 oz. plastic shot cups.
Optional: chill for 1 hour.
Nutrition Information:
Yield:
18
Serving Size:
1 shot
Amount Per Serving:
Calories:

198