I'm excited today to share the best classic Mimosa recipe. I've shared a lot of different Mimosa variations, but sometimes you can't beat the original, with just two ingredients. Let's get into how to make a Mimosa, and all of the different ways you can make different kinds of Mimosas for every season and occasion!
This post contains affiliate links. See our full disclosure policy, here.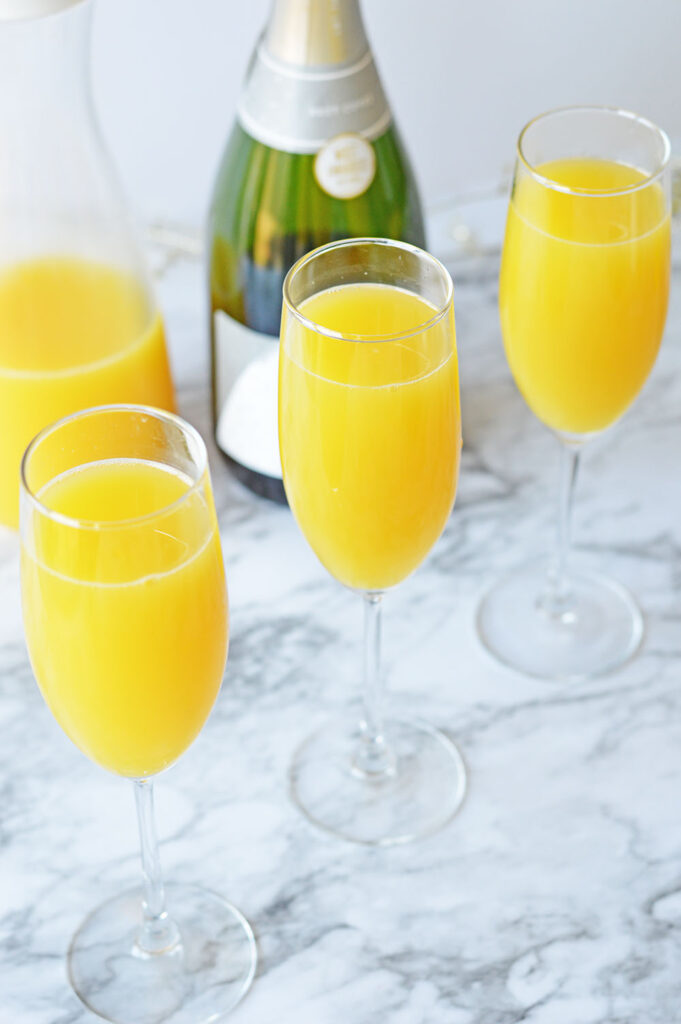 It is believed that the first Mimosa was served in France in 1925. It is traditionally made with orange juice and champagne. They are named Mimosas after the yellow-flowered mimosa plant that they resemble when you are making the classic version. Here's that recipe for a classic Mimosa-
Classic Mimosa Recipe
What alcohol is best for Mimosas?
While I recommend a brut champagne for your Mimosa, because the drier champagne goes well with sweet orange juice, you can use any sparkling wine. Essentially, prosecco, champagne, cava, or US sparkling wines are the same, just from different locations and slight variations in flavors.
What juice to use for Mimosas?
This is the exciting part. You can use any fruit juice to make Mimosas. While the classic features orange juice, you could use apple juice (we love Musselman's), or cider, grapefruit juice, cranberry juice, pineapple juice, and more. This allows you to create so many different variations of Mimosa. We love apple cider Mimosas for Fall, Pineapple Mimosas for Summer, and have even made green Mimosas for St. Patrick's Day. My favorite Mimosa ever might be this cranberry orange Christmas Mimosa. It was the first Mimosa I ever had and I was hooked!
You can get so creative, and we haven't found a juice that didn't pair well with champagne, yet! We really love Simply juices for our cocktails, and Mimosas are no exception. Since you only have two ingredients, it is important to get a great tasting juice, and they make the best juices!
How to make a pitcher of Mimosas
Making a pitcher of Mimosas is so easy! You'll just want to include equal parts champagne, or sparkling wine, and whatever juice you are using. You can scale back the alcohol some, depending on the crowd you a serving, too, if you'd like. A standard bottle of champagne holds about 750 ml or around 25 ounces. So just compare that to your orange juice. For example, Simply Orange regular size bottles hold 52 ounces, so you'd want to combine two bottles of champagne with one bottle of Simply Orange, or to half your alcohol content, 1 bottle of champagne with 1 bottle of Simply Orange.
The most important thing to remember for Mimosas is to keep your ingredients chilled, because you definitely don't want to add ice.
If you make a pitcher, you can also chill the whole pitcher until time to serve.
What food goes well with Mimosas?
Typically, we think of breakfast or brunch for Mimosas. According to Vine Pair, this is because Mimosas pair perfectly with salty and savory breakfast foods, such as bacon or a breakfast quiche. They also say that the acidity in a Mimosa works as a palate cleanser.
Mimosas are great to enjoy earlier in the day because of their lower alcohol content. You can enjoy a Mimosa or two, and still go on to enjoy the rest of the day. This pretty much makes them the perfect breakfast or brunch cocktail. Though, let's be honest, any time is a good time for Mimosas!
What is a Mimosa Bar?
A Mimosa bar is essentially a table set up with all of the ingredients to DIY your own Mimosas. This is a great way to serve a variety of Mimosas to your brunch guests. You'll simply provide the fruit juices, sparkling wine or champagne, and some garnishes just for fun- think herbs and fruits to go with your fruit juices. You'd also want to include some champagne flutes and cocktail sticks for stirring. Here are some Mimosa bar supplies you might love.
Mimosa Flights
This is another fun way to serve Mimosas that is often seen at restaurants. If you order a flight of Mimosas, you'll receive 4-5 different variety Mimosas to try. I love doing flights with my husband, and you could also serve flights to your guests, just bring it down to 2-3 varieties so each guest can finish their own flights, versus sharing like you would with someone special. Flights are so fun and Mimosa flights are no exception!
As you can see, Mimosas can be a lot of fun, you can make them in many different ways, and they are such a simple cocktail to create.
If you loved this Mimosa 101, sign up for our email list so you never miss another recipe or tip!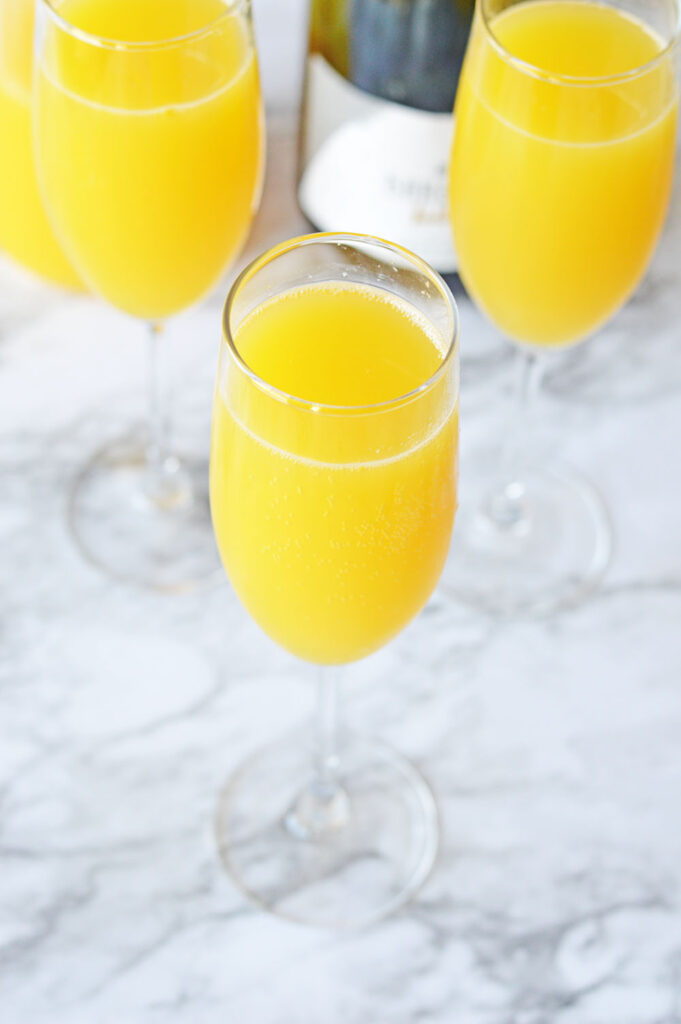 Next, try one of our delicious mimosa variations-
Green Mimosas for St. Patrick's Day
Pumpkin Mimosas for Fall
Cranberry Orange Holiday Mimosas
Deliciously simple classic Mimosa
Ingredients
3 oz. Orange Juice
3 oz. Brut Champagne
Instructions
Pour in your orange juice.
Fill the remainder with champagne.
Enjoy!
Nutrition Information:
Yield:
1
Serving Size:
1 mimosa
Amount Per Serving:
Calories:

230
Nutrition information isn't always accurate.