I'm so excited to round up all of our Halloween Jello Shots Recipes, plus a few favorites from our friends in this post! These are all so perfect for your next Halloween party, and for the most part, all you need is your plastic cups, cold water, hot water, and the alcohol of your choice!
This post contains affiliate links. See our full disclosure policy, here.
We have so many fun jello shots, from jello shots dyed black to jello shot syringes, it's all here. You are sure to find a jello shot on this list that will be perfect for your next party. The best part about jello shots is that they can be made ahead of time, before your party, so you have more time to get ready or spend with guests! They are the perfect addition to your spooky treat table and your friends will be talking about them for years to come!
Here's a list of all of our Halloween jello shots recipes!
First, these Hocus Pocus Jello Shots are so much fun! They are layered with green and purple jello, the topped with whipped cream and cute Halloween sprinkles. They are giving us totally witchy vibes! These could also be called witch's brew jello shots!
Next, our Caramel Apple Jello Shots are going to take you back to days spent at the fair or fall festival enjoying a delicious caramel apple. We used green apple jello and the best caramel sauce, ever!
Our Vampire Jello Shots are a super spooky Halloween jello shot. We layered these with red jello and we dyed some of the jello black for a fun vampire inspired ombre jello shot!
Our Black Jello Shots really make me think of spooky ghosts. We added edible shimmer for a magical effect, and topped them with whipped cream and black sprinkles! A simple dark jello shots recipe, but super spooky! You could also call these black magic jello shots.
Our Candy Corn jello shots are layered to look like candy corn! They don't necessarily taste like candy corn, but they are delicious and the presentation is so much fun.
Our Halloween Jello Shots Syringes are sure to be a huge hit, they may even disappear in the blink of an eye. They are so festive for spooky Halloween fun, and you can customize if you want red or green syringes, or both!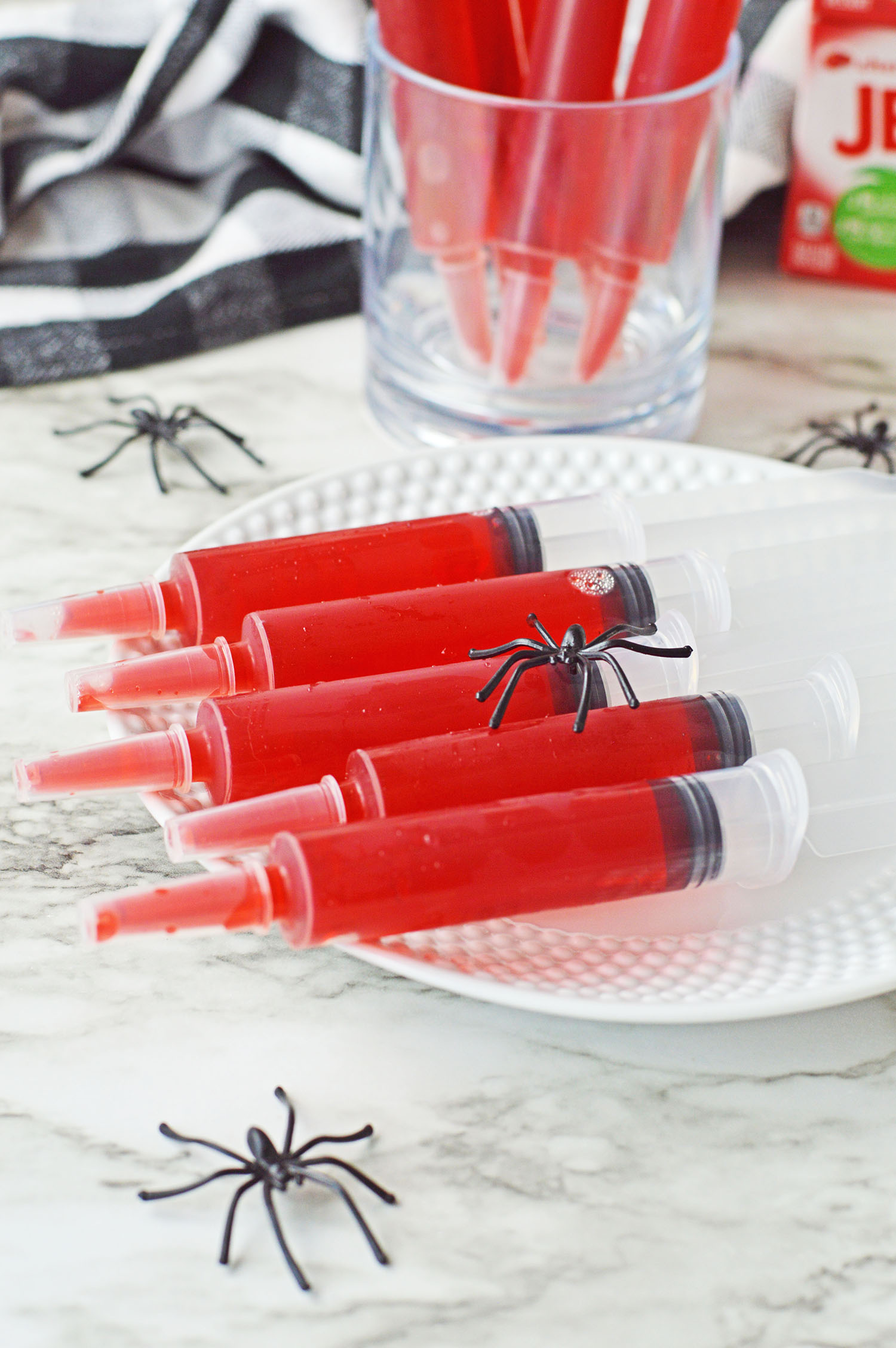 Our Pumpkin Spice Jello Shots are a little less spooky, but still full of Fall fun. They taste like pumpkin pie and are topped with whipped cream and a Mellowcreme Pumpkin!
These next two are some of our best jello shots, and they're not necessarily spooky but would still be perfect boozy Halloween jello shots, and they are great for Fireball lovers!
Our Green Apple Fireball Jello Shots are made with green apple jello, Fireball, and topped with an Apple O candy.
Then, our delicious Cherry Jello Shots are also made with fireball, cherry jello, and topped with a maraschino cherry!
There are so many creative ways to make jello shots for your Halloween celebration. There are some really unique jello shots on this that make such good Halloween party ideas.
Halloween Jello Shot FAQs & Helpful Tips-
Where can I find plastic shot cups?
These cups are called condiment cups, and you can get them at your local grocery store, or on Amazon!
What is the best alcohol to put in jello shots?
Any alcohol you like, really! We use vodka in most of ours because it doesn't overpower the other flavors and is a good compliment to most of our recipes!
Can you get drunk off jello shots?
Maybe, but you'd have to eat a lot of jello shots. Most of our jello shots include about half an ounce of liquor.
What happens if you put too much alcohol in jello shots?
It's likely that your jello shots won't fully set. With that said, you could do this with our syringe jello shots, because if they don't set fully, hey, who cares, right?
Can you make jello shots the night before?
Yes! This is one reason we love jello shots. They definitely mean one less thing to prepare the day of your party. Make them the night before and garnish just before serving.
Also check out these fun shots from some of our friends-
These Eyeball Jello Shots from Simplistically Living are topped with gummy eyeballs so much fun!
These aren't jello, but these shots from Bread, Booze, and Bacon are in test tubes and look really cool.
Which Halloween Jello Shot is your favorite? What else should we make? Let us know in the comments!