Today's recipe is so much fun. You are definitely going to want to try this Bomb Pop Cocktail for your Memorial Day or 4th of July party. It is a lemonade and vodka based cocktail with grenadine and blue curacao syrups to make the fun ombre effect. We used Smirnoff Red White and Berry Vodka for this recipe for a fun twist, and then we stuck a Bomb Pop popsicle right on top. So much fun and so refreshing for Summer.
This post contains affiliate links. See our full disclosure policy, here.
While you might think a layered cocktail takes a lot of ingredients, there are only 5 ingredients in here (not counting ice!), so it's not too complicated. We love the finest call brand for our blue curacao and grenadine syrups, too, because it is super budget friendly, and then our Smirnoff Red White and Berry is also pretty inexpensive. Here's the full list of ingredients-
Bomb Pop Cocktail Ingredients
Ice
1 oz. Grenadine
2 oz. Lemonade (we love Simply Lemonade)
1 oz. Blue Curacao
1 Bomb Pop Popsicle
What Substitutions Can I Make?
Layering drinks is kind of scientific, with different liquids weighing differently based off of their sugar content, but you'll always get a nice separation of the red and blue colors as long as you use grenadine and blue curacao. For the lemonade, you can use any brand lemonade you like, or you could try using a soda like Sprite, though the carbonation might cause more mixing of the colors. You could use limeade (Simply also makes a great limeade). Then, for the vodka, you can absolutely use whatever you have on hand. This cocktail is great with regular vodka as well, the Red White and Berry just makes it a little more fun and patriotic, and adds lots of fruit flavors.
How to Make a Layered Bomb Pop Cocktail
1. Start by adding ice to your glass. When it comes to layering cocktails, more ice is better. You can totally fill up your cocktail glass with ice, but just leave a bit of room so we can put the Bomp Pop popsicle in at the end.
2. Add grenadine syrup first, to make the red layer at the bottom.
3. Add vodka.
4. Add lemonade, or other mixer you've chosen.
5. Finish off with blue curacao. Ideally, this would float on top, but again it comes down to science-y things and how much sugar is in the different ingredients. Either way I totally love how this turned out.
6. Top with a Bomb Pop popsicle and if you have then, cute patriotic straws!
It doesn't get much more fun than a cocktail and popsicle all in one. Plus, as the popsicle begins to melt, it adds a little extra something. So yummy! For a printable version of this recipe, see below!
You might also like these other fun patriotic recipes-
Red White & Blue Layered Jello Shots
Yield: 1
Bomb Pop Cocktail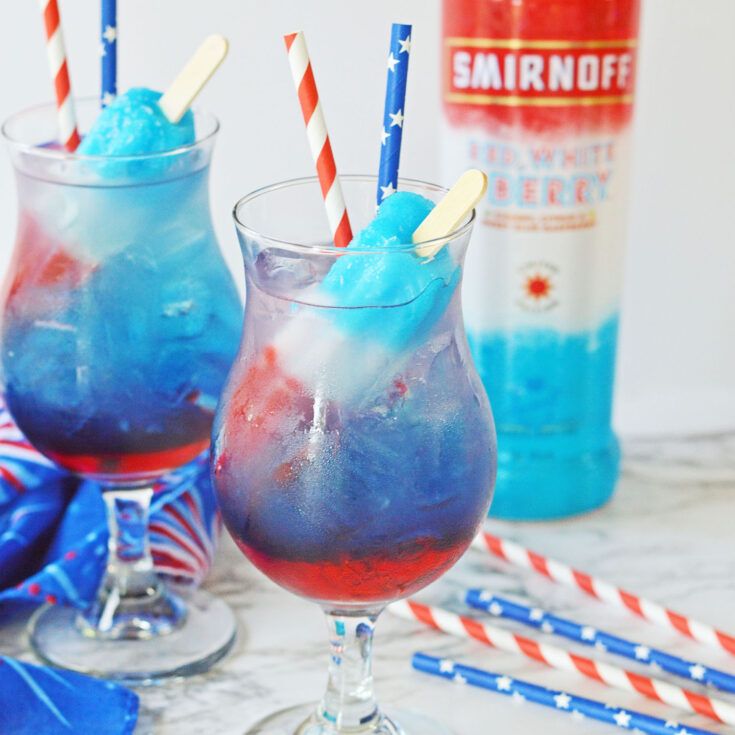 Fun and festive red white and blue cocktail, topped with a Bomb Pop popsicle!
Ingredients
Ice
1 oz. Grenadine
2 oz. Red White and Berry Vodka
2 oz. Lemonade
1 oz. Blue Curacao
1 Bomb Pop Popsicle
Instructions
Fill your glass completely with ice.
Pour grenadine slowly over ice.
Slowly add vodka, followed by lemonade.
Pour the final layer of blue curacao slowly over the top.
Stick a bomb pop popsicle down into the drink.
Enjoy!
Nutrition Information:
Yield:
1
Serving Size:
1
Amount Per Serving:
Calories:

287
Nutrition information isn't always accurate.