Bloody Mary Rim Salt Recipe
Today I'm sharing our favorite Bloody Mary Rim Salt recipe! This Bloody Mary salt is perfect for adding to the rim of a glass before you pour in your Bloody Mary and add all of your toppings.
This post contains affiliate links. See our full disclosure policy, here.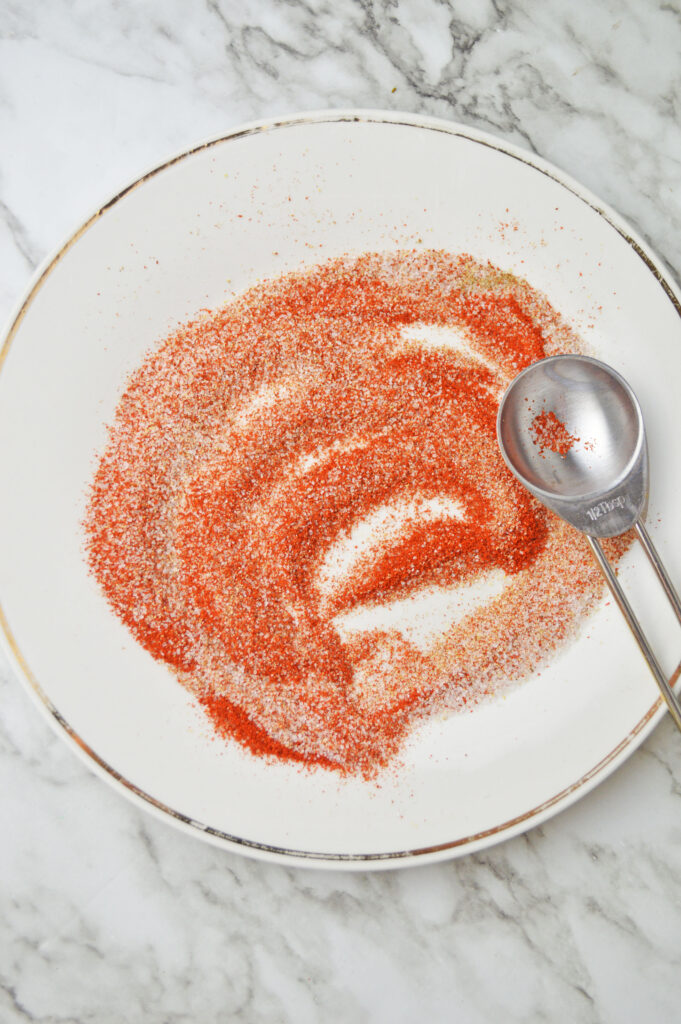 What is a Bloody Mary?
A Bloody Mary is a classic brunch cocktail with tomato juice base, vodka, and a large variety of seasonings and toppings- just depending on how you like them.
We just love Bloody Mary cocktails. If you need a recipe, we have a Tito's Bloody Mary recipe that is excellent and calls for this rim salt, as well. You just can't beat a spicy Bloody Mary made with all of your favorite ingredinets- tomato juice, worcestershire sauce, fresh lemon juice- yum! We love to garnish ours with celery stalks, fresh jalapenos, olives, and more, but no Bloody Mary is complete without a nice rimming salt.
This Bloody Mary rim salt mixture is easy to make and can be stored for a while in an airtight container at room temperature. It is the perfect complement to making the ultimate Bloody Mary. A great Bloody Mary goes over the top with toppings- we've even added a crispy slice of bacon or a dill pickle spear to our glass before. Yum!
Ingredients:
1 tbsp salt (we like using coarse sea salt)
1 tsp. paprika
1/2 tsp. garlic powder
1/2 tsp. onion powder
1 tbsp. celery salt
Optional: 1/2 tsp. black pepper
The key ingredient to this salt is the celery salt bringing that celery flavor to the mix.
How to Use Bloody Mary Rim Salt
To use this salt, sprinkle some into an even layer on a small plate. Run the cut edge of a lemon wedge or lime wedge along the top edge of your glass. Dip the glass into the salt, then prepare your cocktail. We like to make about a 1 inch rim with a good layer of rim salt. This rim alt recipe will rim several cocktails, and is perfect for serving on a Bloody Mary bar as you could even double or triple the amounts.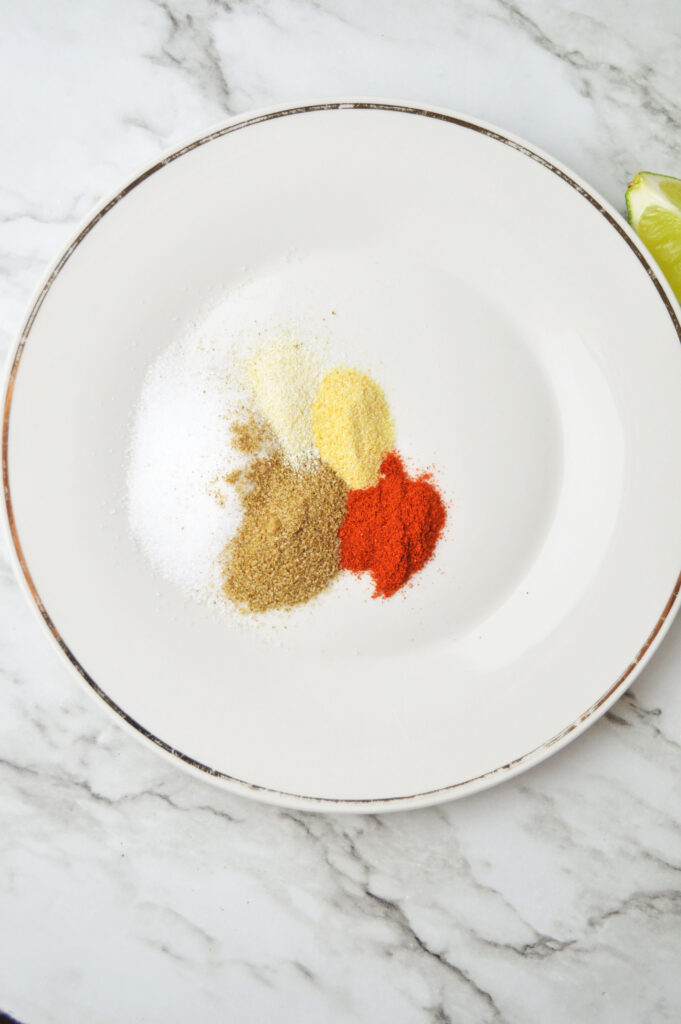 Add this to the rim of your glass for the best Bloody Mary experience. Not only is this salt great for a Classic Bloody Mary, you can also use it on the rim of the glass for any other spicy or savory cocktail you love.
FAQs & Tips:
For extra spice, include a bit of cayenne pepper in your rim salt or in your cocktail.
For a cajun flavor, swap the regular salt for a tablespoon of old bay seasoning. This works great if you are garnishing your Bloody Mary with shrimp!
How do you drink salt on rim cocktails?
The best part is that you can drink them how you want- sip straight from the glass to get a bit of rim salt in each drink, or grab a straw to take a break from the salty rim if you like.
How do you stick salt to a cup rim?
The cut edge of a fresh lemon wedge (or lime wedge) is your best bet- the juicier the lemon or lime the better. Roll it on the counter a bit before slicing to get things going, and use some wedges for rimming and toss a few into your cocktails you are serving.
What is the point of a salt rim?
We love salting the rim of our cocktails for presentation, but also the rim salt will either compliment or offset the flavors, like the salt on a margarita glass offsets the sweetness of the drink. It can really bring a drink to life and add an extra layer of flavor.
Use this rim salt on these other great cocktails, as well-
Bloody Maria (coming soon!)
Michelada Cocktail with Shrimp
Yield: 2 servings
Bloody Mary Rim Salt
A delicious Bloody Mary Rim Salt recipe for garnishing your Bloody Mary or Bloody Maria cocktails.
Ingredients
1 tbsp. salt
1 tsp. paprika
1/2 tsp. garlic powder
1/2 tsp onion powder
1 tbsp. celery salt
Instructions
Stir together, and sprinkle into an even layer on a shallow saucer. Run a lime or lemon wedge along your cocktail glass and dip into the salt mixture.
Nutrition Information:
Yield:
2
Serving Size:
1
Amount Per Serving:
Calories:

10
Nutrition information isn't always accurate.